The Persistent Reality of Illusion Part III (The 'John Clare' trilogy).
Tenor Voice, Solo Viola, and large symphony orchestra Op 40
Instrumentation: Picc/2/2/Cor/2/2/4/2/3//Perc(5)/Timp/Harp/Solo Viola/Tenor Voice/Strings
Duration: 32 minutes
Date of Composition: 2015
Performance:
Clare in a portico of All Saints Church, Northampton.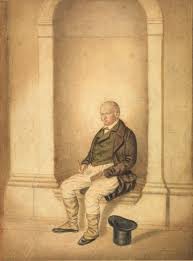 The music references several of Clare's poems and writings, but is essentially a lament for the poet living out his life at Northampton General Lunatic Asylum.
" I see nobody, I hear nothing"
"Poetry? Ah, yes, I once had something to do with poetry"
"I am, but what I am, none cares or knows"
Programme Note, further details of this work, and samples of pages of the music, are all available from the score

Play audio sample, then click 'Full Screen' to view the score in a new window.